The Modern Society Of Chemical Products is a limited (ltd) company created in 2002. It operates in the sector of industrial chemistry for the production and sale of chemicals for water treatment and crude oil.

The Analysis and Testing Lab (LAE) was created within the Modern Company Of Chemical Products (SNPC) in order to extend its activity. This lab is recognized for Physico-chemical and bacteriological analyzes of water samples from industrial discharges, drinking water, sludge, sand, industrial deposits of crude oil, natural gas and condensate.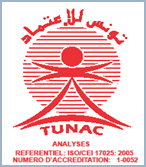 The (LAE) lab of the SNPC has implemented a system of quality management that satisfy the requirements of ISO standards CEI 17025 (2005), the National Accreditation Council requirements and the specific requirements of its customers.